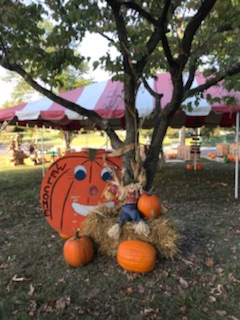 We love it when people take pictures in our Pumpkin Patch! When you're done, post them to Facebook or Twitter using #PumpkinsWithPurpose
Every October, Bethlehem Church's front lawn is decorated with hundreds of pumpkins.  Proceeds from the pumpkin patch benefit bring a double blessing.  Local farmers have a place to sell their pumpkins, and funds raised are used to support Bethlehem Church Youth missions. 
The pumpkin patch was introduced to the Bethlehem family in 2003 by the creative spirit of Ellie Sanders, an associate pastor who served Bethlehem Church, and passed away in 2004.  The pumpkin patch is a wonderful living memory of a great servant of Christ. We hope you will join us in supporting this mission again this year!