Weddings & Special Events
Weddings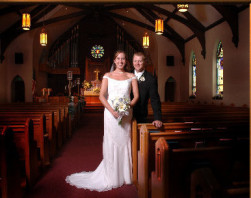 Bethlehem United Church of Christ welcomes any couple desiring to be united in our church.  Our beautiful sanctuary seats approximately 350 people and has a center aisle. 
If you are interested in being married at Bethlehem Church, please review our Wedding Policy, as it has answers to many frequently asked questions, including our fees.  If you would like to see our facilities, we recommend you join us for worship on Saturday evenings at 5:30 PM (contemporary) or Sunday mornings at 10:15 AM (traditional).  This will give you the best idea of how things will look and feel on the day of your wedding. You may also make an appointment Monday - Friday from 8:00 AM - 3:00 PM.
Once you have decided to hold your wedding at Bethlehem, please contact Sherry in the church office (812-867-2497) to see if your date is available.  She will also put you in contact with Pastor Emily to begin making arrangements for your special day.
When your date is confirmed, a non-refundable deposit of $250 is required to hold the date.  You will also need to return a completed Wedding Information Form. 
Additional questions?  Contact Sherry (812-867-2497 or sherry@bethlehemucc.org).
Special Events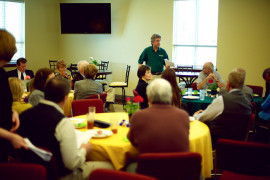 Bethlehem is a popular location for special events!  Whether you're planning a meeting, bridal or baby shower, special birthday party, or a family function, Bethlehem is a great place to host your event. Our Fellowship Hall is used for casual gatherings, and our recently built Welcoming Area (pictured left) has been very popular for gatherings.
Before calling to schedule your event, please review our Building Use Guidlines, as it answers many frequently asked questions. If you would like to see our facilities, you may stop by Monday - Friday, 8:00 AM - 3:00 PM or come visit us for worship. If our facility matches what you are looking for, please contact the church office (812-867-2497) for availability. We also ask that you complete a Building Use Agreement at the time you book your event.