Through the Rose Window: Lost Sheep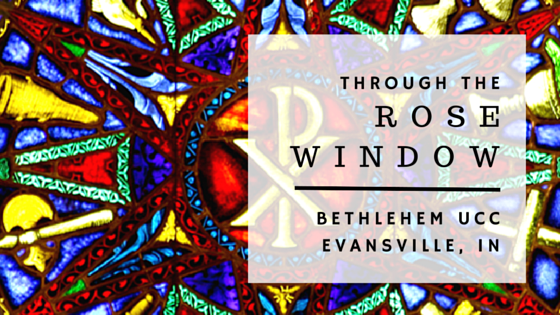 This past Sunday, I subbed in the 1st-2nd grade Sunday school class. Our Scripture passage included the stories of the Lost Sheep and the Lost Coin from the Gospel of Luke (15:1-10). As I spoke with the children about Jesus' love and concern for the one of many, I could see that this is something they intuitively understood. They knew what it was like to value a toy or a pet or a blankie so much that they would suspend all other important tasks and playing to search for it in hope that it would soon be safe in their arms again. 
Hearing these 6-8 year olds share about possessions that were precious to them made me think of my own children and the way the whole house comes to a screeching halt when we are missing a blankie or a beloved stuffed animal—particularly if it is close to bedtime. It doesn't matter who might be over visiting; everyone in the house becomes part of the search party, turning over couch cushions, checking in cabinets, pulling toys out of the toy box to see if maybe Raccoon Baby is stuck underneath a pile of toys. Once the lovey is found, there is a sense of joy and relief that is palpable (and may come from the grown-ups as much as from the child!). 
As I prepare for the birth of our third child and to step away from ministry in the church for a few weeks, I feel torn. It is hard to leave the work I love—even for just a short time. It is hard to think that it is worthwhile to replace ministerial tasks with those as mundane as diaper changes, laundering the same spit-up stained onesies multiple times a week, nursing around the clock, and trying to learn what techniques will comfort our last baby. 
One of my seminary preceptors, Sarah Jobe, reflects on maternity leave in her book Creating With God: The Holy Confusing Blessedness of Pregnancy. In it, she identifies the same struggles I am feeling, and she finds direction and comfort in the Parable of the Lost Sheep. "I always thought it made more sense for the shepherd to stay and take care of the ninety-nine sheep. . .but I am convinced that this narrowing of focus to one little lamb is not simply a product of my own human limits; this narrowing of focus is an opportunity to experience and understand how God works." (Jobe 37) Is this not what the shepherd would do? Would he not leave behind his important work to ensure that the one with the greatest needs in this moment receives the attention and care she needs? 
And so, I take comfort in Jobe's interpretation and in the wisdom of the children from Sunday school, that sometimes dropping what you're doing for the sake of pursuing the one is a holy enterprise in and of itself. I will try to remember this as I change the 12th diaper of the day. And, I will look forward to the day when I can bring our littlest "sheep" to be a part of the rest of our flock.
But what about you? Is there a "one" you are needing to pursue? How might God be drawing you to go search and care for an "outlier," even if it seems more reasonable to stay close to the fold where your impact might seem greater in the world's eyes? May we be ever mindful that God is the God of the many and the God of the one.
Rev. Emily Slade
Minister of Children and Visitation