Through the Rose Window: Lessons from the Voting Booth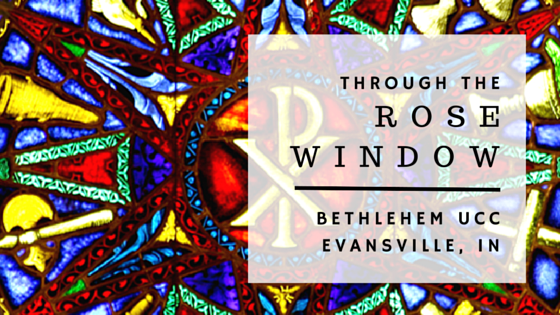 Start children off on the way they should go, and even when they are old they will not turn from it. Proverbs 22:6
I waited twenty minutes to vote. I was accompanied by two young children bursting to discuss presidential politics with a line full of strangers (and a baby who was happily trying to eat her own feet). I noticed the father in front of me also struggling to keep two children from leaking his political preferences. As children are not good at keeping secrets, before we made it to check-in, we both knew that we weren't supporting the same candidate. There we stood: two families—with starkly different views—utilizing the same tactics, because we shared one very important value: teaching our children that voting is important. 
If you were on social media on November 8, you likely saw pictures of parents taking their children to vote with them. This is not an easy thing to do, as children are not so keen on waiting in long lines, unless perhaps there is an amusement park ride at the front of it. I imagine there may have been whining, incessant questions, and lots of tugging and hanging on mom or dad. Surely, it would have been simpler to leave the kids at home. But, parents rightfully feel that it's part of their job as parents to model for their children that voting is a right that we ought to exercise. 
Sharing your political views with your kids is one way of conveying to them what your family's values are. "We voted for ____________, because in our family _______________ is really important." "We didn't vote for ____________, because we disagree with ______________." (At least, I pray that these conversations were this G-rated!!) Additionally, it's a great lesson in how to weigh pros and cons, how to prioritize, and how to accept "you win some and you lose some," which is invaluable in all stages of life! 
As I scrolled through the pictures, I was so impressed by the commitment of my peers to shape the next generation into active citizens. But, it also got me thinking. . . 
What if we were that committed to showing our kids our values when it comes to faith and participating in the life of the church? 
Our children will remember that we carved out space to vote. Will they remember that we carve out space for church? Children understand what things matter most to us, because they see what we bend over backwards to make happen. 
They notice when we only go to church when our Sundays happen to be free. They notice when we sleep through Sunday school, but never middle school. They notice when ballgames, PTA meetings, and birthday parties all come before the commitments made to serve a committee at church. 
Likewise. . . 
They notice when we are moved in worship. They notice when we volunteer to teach Sunday school. They notice when we talk about our faith in everyday conversations. They notice when we take flowers to a shut-in. They notice when we miss their ballgame, because it's the third Monday of the month and we made a commitment to serve as an elder on Council. 
Our kids are watching us vote and are bursting to tell everyone which bubble we darken. Our children are also watching us live out our faith. Are they bursting to share what they see? 
Rev. Emily Slade
Minister of Children and Visitation