Through the Rose Window: Labyrinth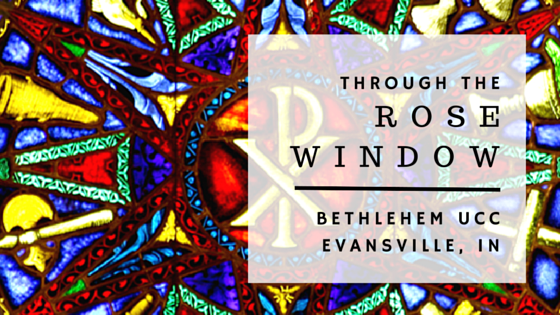 Five years ago, my wife Kelley and I were invited to attend a family barbecue for her Biology department's graduating class. In the courtyard, an odd shape was designed in the concrete.  
During Bethlehem's Lenten Study, we learned more about this shape: a labyrinth, a path that is used for a 5,000 year old Christian practice that represents a spiritual journey.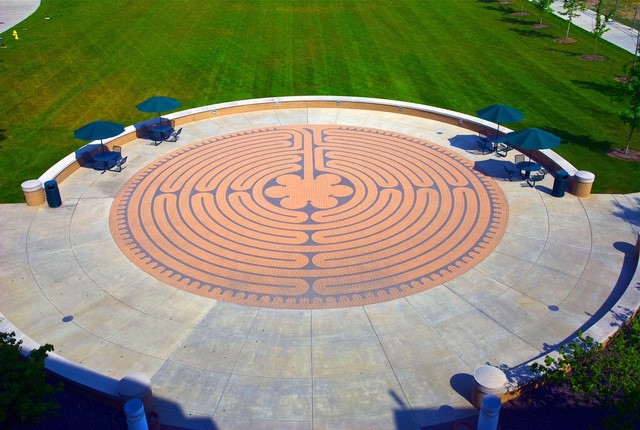 In her book Searching for Sunday, Rachel Held Evans adds additional insights into the role of labyrinths in Christianity:
"The difference between a labyrinth and a maze is that a labyrinth has no dead ends. ...
It has become cliché to talk about faith as a journey, and yet the metaphor holds. Scripture doesn't speak of people who found God. Scripture speaks of people who walked with God. This is a keep-moving, one-foot-in-front-of-the-other, who-knows-what's-next deal, and you never exactly arrive. I don't know if the path's all drawn out ahead of time, or if it corkscrews with each step like Alice's Wonderland, or if, as some like to say, we make the road by walking, but I believe the journey is more labyrinth than maze. No step taken in faith is wasted, not by a God who makes all things new [emphasis added]."
The last sentence of this quote that stands out to me most. My faith, my soul, my Christianity is not defined by the destination but by the journey.  Each step along the path represents moments of success or solitude, peace or turmoil.  
My past, present, and future can be viewed as if walking along a labyrinth.
In my youth, I was raised in a Mormon home. My two loving, faithful parents led me along my path. They guided me through trials and triumphs. They epitomized for me the unconditional love of God. I learned a lot from my eight siblings: compassion, humor, how to politely disagree, how to not politely disagree, and how to cheat at cards.
<<step>>
Like many, college was marked by an exploration for religion and God. Uncertainty and certainty, doubt and knowledge. Depression and calm, solitude and friendship. Then finally, acceptance.
<<step>>
My wife and children joined me on the path.  
<<STEP!!!>>
Eventually, doubt and uncertainty about my faith, my religion, and God crept back into my life. I was raised to believe that disbelief and questioning was a trial, something to be feared, yet my doubt lingered. With great struggle, I abandoned the religion of my youth. I left behind many that I honor and revere. I began to evaluate every last belief I had: spiritual, political, sociological, and even familial. The process was unsettling and unnerving. The change I experienced was one of the most difficult periods in my life.
<<step?>>
Along the path of my labyrinth, I was exposed to new ideas and new paradigms to understand the very nature of religion and Christianity. The trivial details were no longer important. Instead, loving God and loving my neighbor were paramount. I became open to understanding the struggles of others: those who fight to feed themselves and their families, those who have faced oppression because of the color of their skin, those who have been rejected because of who they love. Through loving my neighbor, I found God's love and grace. My religion was no longer defined as the source of truth; it became a vehicle for exploring and discovering truth.
<<step>>
Doubt and uncertainty are among the greatest gifts I have been given. All of the steps taken in faith along my labyrinth are treasures. The journey of my past has aided me in becoming the person I am today. It has led me to a personal connection with Jesus, to progressive Christianity, to the United Church of Christ, and to Bethlehem. I will take these tools as I continue along the path.
<<step>>
I am being made new.
Peter Felt
Bethlehem Member