Through the Rose Window: Creation Care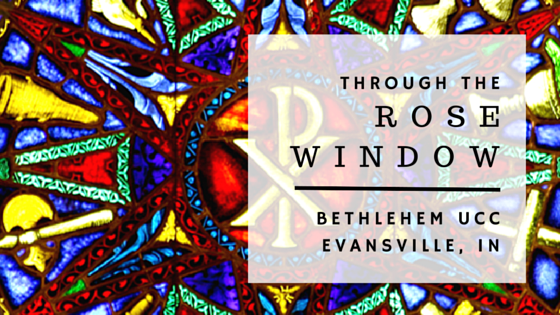 Earth Day may be April 22, but to us, caring for earth is a year-round endeavor.
In recent years, Bethlehem has taken our commitment to being stewards of creation to heart. We think about how to care for the planet on an ongoing basis and have taken many strides to reduce our carbon footprint, including:
Forming a Green Team to make recommendations about our energy use and environmental programs
Adding single stream recycling to reduce waste in the building
Challenging the congregation to monthly "Smart Savings Projects" to save energy in their homes and save them money in the process


Examples: installing WiFi or programmable thermostats, hanging clothes to dry, reducing water usage, and adding insulation to attics.

Planting more trees on our campus
Installing LED lighting in our sanctuary
Collecting bottle caps to create benches and picnic tables
Holding annual metal recycling events and rummage sales to keep unwanted items out of the landfill
Researching and discussing solar panels as a potential source for our energy
In celebration of our ongoing creation care and Earth Day, I asked Susan Sirnic, chair of our Green Team, some questions that might help others understand why all of this is a big deal at Bethlehem:
Why is creation care important?
We enjoy the tremendous beauty of God's creation. I hope that that the children and grandchildren who come after us can also enjoy these same wonders. However, the concept of creation care is even bigger than appreciation of the earth's beauty. When you get right down to it, creation care, in its essence, is about quality of life and even long-term survival. We must address issues of waste, pollution, and changing weather patterns in order to thrive.  
Why is creation care part of faith development?
God created the earth and proclaimed it good. As good stewards of all that God has given us, we are called to take care of the earth and all of creation. That would include you and me. A central theme in creation care is the biblical notion of justice, the idea that the poor, the weak, and the marginalized are most susceptible to the effects of environmental disruption.   
What's most exciting to you about our initiatives?
I am most excited about the cumulative impact we can make when we focus on a common goal. Bethlehem has recycled over 2 tons of plastic bottle caps. For our efforts, our campus now has a bench and 4 picnic tables, all made from recycled plastic. And we're not done yet! We have also recycled over 2 tons of scrap metal, the sole source of funds for our Green Team. All of this is in addition to the general single-stream recycling that we practice within the church. Can you imagine how much waste Bethlehem has diverted from the landfill, just with these simple steps?
What's been the most memorable outcome from one of our initiatives?
The most memorable event was when our pastor pulled out a large, commercial scale during a Children's Chat. The kids weighed themselves, their bottle caps, and just whoever and whatever was around trying to figure out how many bottle caps it would take to make a picnic table! The best outcome is the one that's yet to come as we continue to explore new initiatives.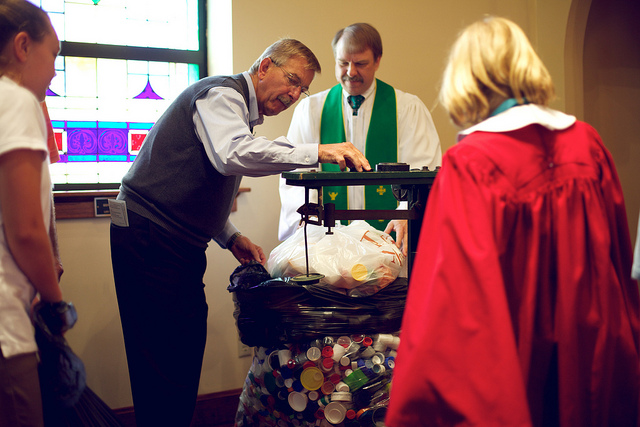 Amanda Bultemeier
Director of Marketing and Membership Development