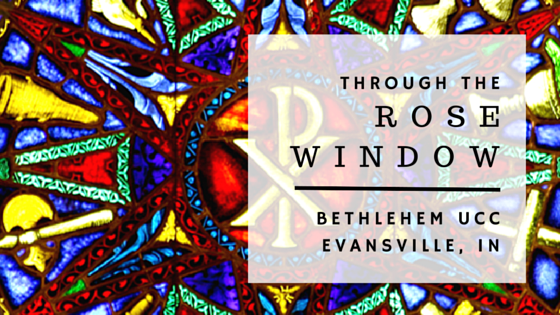 A few Saturdays ago, 60 or so members and friends of Bethlehem gathered for a workday.  While projects were tackled all over our campus, I was in the basement with volunteers trying to clean out the closet.  You know, that closet.  The one all churches have.  The closet where well-meaning people stash supplies, costumes, decorations, and other items "just in case" we could ever use them again. Often, however, because they are already at the store or because they don't have the time to run by the church to check, teachers buy new, rather than look for old supplies that could be used again.
So, we did a lot of purging.
We unearthed boxes and boxes of artifacts from years gone by.
As we pulled items out of plastic tubs, trying to decide what to keep and what to donate, I would say "what do you think about this?"  And someone, with significantly more years at Bethlehem than I have, would respond. Here's how it typically went: "Oh!  That was from the time when the youth did a 50s drive in!  People came and ate in their cars and the youth served them on roller skates!  It was a great fundraiser."  Or "These are costumes from a Christmas program the children did years ago.  They were so cute!  Hmm, it would have been back when Ashley was in the children's program."  These bursts of enthusiasm inspired by fond memories would slowly deflate, like one of those multicolored playground parachutes as the children pull their handles to the ground.
Box after box uncovered memories of glory days—events where the church rallied together to fundraise for mission work, Vacation Bible Schools where God's love was shared with children in our community, Family Night plays where children dressed like farm animals or adults as Peanut characters, all to help celebrate the birth of Christ.      
And then. . .
 "I guess there's no reason to keep it."
 We'd move it to the appropriate discard pile—trash, recycling, or donations.
The church sometimes struggles to let go of the past.  And nowhere is that more apparent than in that closet.  We think that what is useful today will be good enough to use again tomorrow.  But that's not the way life or the church work. Time marches on and new needs arise. The context changes, the people change, and the needs of the world change.  The church has survived for 2000 years, because people like us have been willing to empty that closet, remember the joys and triumphs of days gone by, and then join together to face the "next thing" coming down the pike.  And so, we were doing necessary work—clearing out space for a "new thing" to happen at Bethlehem.
But you know, we did put some things back in the closet that day.  Some things that we knew would be useful again.  "We always need ocean-themed stuff for VBS."  "We can always use paper bags and toilet paper rolls for crafts."  "These pumpkins can be reused for "Reverse Trick-or-Treating in October."  There are some things the church needs to keep for another time—Scripture and Sacraments, for example—but we also need to be sure there's plenty of room for what's coming next.  
And so, I left that relieved that we had moved so much of the "stuff" out of that closet, but also filled with the joy of hearing new-to-me tales about my church's past.  And I left excited thinking about what boxes we'll be sifting through ten years from now "remembering when" the church met the needs before them in a (new) fun, creative, and life-giving way. . .
Dear Lord,
Thank you for closets full of memories, and for a church with a legacy of ministry to its people and beyond its walls.  We thank you that you are a God who is ever doing a new thing, even as you root us in a history of faithfulness to/of your people. Give us wisdom to know what we need to keep tucked away in our closet to use again and again and what we need to let go of.  Amen.
Pastor Emily Slade
Minister of Children and Youth